With the T20 World Cup looming large in the subcontinent, there's only a few teams most people are betting on to win the prestigious trophy. However, as the past has proved, this is a 20 over per innings in which things can turn around drastically in the matter of just a few over or even a few balls. Nothing is certain. However, some teams seem more likely to win the tournament than others, with India being among them. So let's look at India's title hopes with reasons why they can and can't win the World T20 tournament this 2021! Here is Zippy Opinion's take on the matter.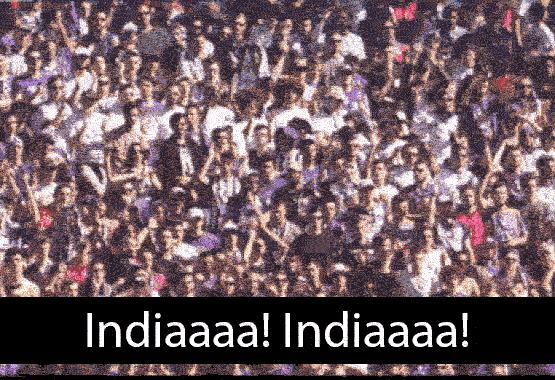 Here's Why India CAN WIN the T20 World Cup
Reason 1: Favourable Conditions  🌤️
With India hosting the tournament, they know the conditions inside-out. The recently concluded Test series against England is proof that India can go all the way when it matters and by leveraging the home-friendly conditions to their benefit. Some opposing pundits cried foul. But we don't see what the issue is here. Nobody complains when pitches are too green overseas and the ball is dangerously bouncing and swinging around.
Fun fact: Australia were originally supposed to host the tournament in 2020 but the pandemic changed postponed the event to 2021.
Reason 2: Recent winning form 🏁
India has over Australia and England in tough situations and that has instilled great confidence in them to believe they can turn against the tide and win games even when all hope seems lost. Their form is like that of a steam engine chugging along with power like an unstoppable force of nature that is simply unable to stop its gallop to the title.
Reason 3: A blend of youth and experience👦🧓
Just like our users on Zippy Opinion, the Indian team also has a perfect blend of youth and experience in their squad. It adds the fearlessness of youth like Rishab Pant and co. along with the calm and composure of the experienced leaders like Rohit Sharma and Virat Kohli (We know, but let's give credit where it's due). There's a reason India are at the top portion of the rankings in each and every format of the game. This isn't a mere coincidence.
Reason 4: The Indian Premier League 🏏
What do we even say about the IPL? It is simply the best domestic competition in the world. It is the most successful, rich and attractive competition to participate in. This is one of the main reasons India developed its current crop of players who can compete at the highest level with ease. I mean, they are already used to handling so much pressure with International stars in the IPL. So there's hardly a surprise that they are coming to the fore at the highest level for India.

Reason 5: Abundance of All-rounders 😎
India has never had this many established all-rounders in the team that can both bat and bowl at the top level. Hardik Pandya and Ravindra Jadeja are at their peak years and have so much to give here. Not just this, but the fitness levels of the players have gone up several-fold compared to the yesteryears of the previous generation.
 Here's Why India CAN'T WIN the T20 World Cup
Reason 1: Top order Reliance 👎
The reliance on the top order is heavy. And there is no doubt about the talents of the rest of the team. However, that does not mean that the Indian team is flawless. The over-reliance on their experienced top order in the event of navigating a tough pitch and chase where a calm individual is needed to face tough opposition will play an important role in determining if this current crop of players are good enough to go all the way to the top.
 Reason 2: Virat Kohli hasn't led a senior T20 team to the trophy 😱
This one's a head scratcher. Be it the IPL or whichever senior team that Virat Kohli has led, they haven't won a major T20 trophy. This does baffle the mind given how good Kohli is as a captain, a leader and a player. There are no doubts nor hesitation when it comes to acknowledging his conquests and achievements both individually and as a team. However, this one trophy has eluded him as and would be a feather in his cap as the leader of the Indian Cricket Team.
Reason 3: Knockouts are a different ball-game 🤾
Let's be honest, if it's a league system, we'd expect India to be in the top 3 quite easily. However, in knockout games, you can never tell. Cuz all it takes is one bad game to ensure that you are kicked out of the tournament. You can never tell, especially with T20 games and it's a betting man's hell here as the odds are always stacked against you.
Reason 4: The pressure of winning at home  🤘
This is something that can make or break a team. While it can be a motivational factor, there will, in all likelihood, be limited or no audiences for support in the stadiums. However, the mental factor of delivering the goods at home will play as a crucial factor for the Indian Cricket team in making a solid run to claim the World T20 trophy this year.

Reason 5: Poor recent fielding form 🙅
Although the current crop of players are physically fitter than any other Indian team in the past, there seem to be multiple lapses in fielding this past year. This can be especially noted in the series against Australia where a series of dropped catches took the game away from the Indians.
 A penny for cricket thoughts  🗣️
If we at Zippy Opinion, one of the best paid survey sites in the world would have to weigh the pros and cons of this list, then we can safely say that although India has a few hurdles to jump through, there is more than enough evidence to suggest that India are the favourites to lift the trophy. However, we have to be cautious of other top performing teams as well as some dark horses in the competition.
What are your thoughts about India's chances of winning the World T20 trophy this year? Looking at the pros and cons above, do you have a differing view or do you agree with us? Let us know in the comment section below.
What are the steps to JOIN Zippy Opinion?
Just follow this link – – – ->> https://in.zippyopinion.com/signup follow the steps laid out and that's it. We're free, safe and most of all the most reliable as we all know.
Is there any membership rules I should know about?
The main principle for membership and the way we treat our members are based on honesty and authenticity.
We ask our members to answer our surveys honestly. With our quality checks in place, we ensure that surveys have been answered in an appropriate time, and sufficiently well. Members who do not follow these simple principles will risk having their account deleted and losing their reward(s).
I've not received my confirmation email to activate my account. Why?
There are a variety of reasons for this to happen. The email may still be in transit. Depending on internet traffic, it can take a couple hours for emails to arrive. This is more likely to happen around holidays and peak sending times. Ensure that you have given the correct email – no spaces or misspelling. Please check your junk folder and ensure that your email is not using anti-junk software to block any email addresses. If you still have not received an email, navigate back to the registration page and re-enter your email to prompt another confirmation mail.